Jobs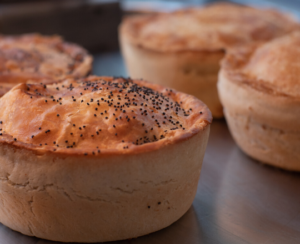 Cook/Kitchen Operative
Bristol
We are looking for a number of high-potential people who can bring their enthusiasm, careful approach and ability-to-learn to a role that offers extensive on-the-job training that will ultimately lead to them becoming highly skilled bakery operatives with a range of transferable skills. Experience of working in a production environment is desirable but not essential.
Based at Pieminister Kitchens, BS10, successful candidates will cook the fillings for our award-winning pies. It's a skill to prepare batches according to detailed recipes and we need new colleagues capable of following instructions, assessing quality and completing associated records to deliver well-prepared food with consistency.
We're looking for someone with an eye for detail as well as time-management skills to ensure we continue to efficiently produce safe, great-quality food. Food safety and health & safety should always be at the forefront of the operator's mind to help preserve and enhance our reputation. We are looking for people that take pride in their work, will be confident following agreed procedures and with an ability to keep a cool head in a hot and demanding environment. Being flexible with working hours is desirable, especially during our busier winter months.
Key Responsibilities
To follow all training and operating procedures as instructed by the company and to raise with a manager any changes to a procedure that occur or are required
Where trained, to ensure that the necessary paperwork is completed to a high standard to aid traceability and due diligence
To maintain high levels of food safety standards when handling food including temperature control, storage conditions and correct use of PPE
Maintain high standards of quality, hygiene, health and safety in line with company specifications
To ensure that the standards of cleanliness and house-keeping are within the guidelines laid down in the company procedures
To report all accidents and take the necessary preventative action as well as being proactive in raising potential health and safety issues through our hazard reporting system
To be able to communicate effectively both verbally and non-verbally at all levels
To be flexible within the role and within the unit departments, to take on any other duties as and when required
Skills
Essential
Excellent attitude and ability to follow instruction from management
Keen eye for detail especially with written paperwork
An ability to notice and avoid potential H&S hazards as well as aid in reporting them
Willing and able to follow complex instructions
The job can be quite physically demanding so having energy and enthusiasm is essential
Unfazed by a warm and steamy environment
Comfortable working with foods including meat and dairy
A good communicator and able to work independently and alongside colleagues
Cool under time pressure but unwilling to take short-cuts. Good time management when cooking.
Numerate and literate with the ability to complete paperwork accurately and legibly
Desirable
Experience of work in commercial kitchens or food manufacturing
A keen cook at home with a good understanding of raw materials
Previous health and safety and food safety training certificates
Keen to build on experiences with new transferable skills
The Package
£10.39 per hour
Quarterly bonus of up to 10% of your salary
Plan for the future with company pension contributions
29 days holiday (pro rata), plus 1 day extra per year you work with us (up to 4 years)
Skills based pay progression
1 paid volunteering day a year
All the pies you could eat at cost price
One-to-one online coaching with More Happi
Up to £500 worth of pie and mash for the wedding of your dreams
Cycle to work scheme
Refer a friend bonus scheme
Staff discount meals in our restaurants and lunch on us every week (Pie day Friday!)
Continuous training and development to grow within the world of pie
And… a Pieminister tea towel, free Pie Feast vouchers to try out the restaurant menu and a box of 12 of our award-winning pies when you start!
To apply send your CV and cover letter to alba.lyons@pieminister.co.uk with the reference: Cook/Kitchen Operative.
About Pieminister
From a small pie kitchen, café and festival stall in 2004, Pieminister has grown into the UK's No 1 premium hot pie brand.  An independent family business with its foundations firmly rooted in sustainability, Pieminister is well on its way to becoming a B-Corp and aims to be carbon neutral by 2025: just one of the commitments laid out in the company's Pies.Planet.People goals.
With a growing number of Pie & Mash restaurants opening across the UK and 100s of retailers and pubs stocking their award winning products, Pieminister has gained a reputation as the go-to pie for those in the know.
Like many businesses, the pandemic has presented some significant challenges for Pieminister to overcome. However, tireless efforts on COVID-security and re-shaping the business to thrive in the future means that the company is financially fit and ready to leap towards significant growth once more.
The company is led by its original founders, brothers-in-law Jon and Tris. Their Pie Crew is a strong team of enthusiastic, entrepreneurial people who work hard and have fun. Everyone is included, respected and is committed to drive positive change together, one pie at a time!