Jobs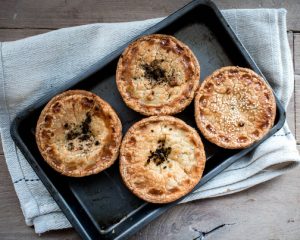 Engineer
Bristol, Brentry
We're looking for an engineer to join our team at the growing Pieminister Kitchens. The main responsibility is to carry out required electrical and mechanical maintenance to maximise equipment up-time whilst minimising costs.
The ideal candidate will have several years' experience and ideally be from a food or FMCG background. You will need to be proactive, flexible, have high standards and plenty of energy to bring to the role.
Key Responsibilities:
Provide support and contribute in a tangible way to the implementation and maintenance of the HSE & Quality process on-site
Be a key player in a small engineering team
Conscientious and lead by example
Work using your own initiative
Calm under pressure
Ensure Permit To Work compliance and enforce all site H&S rules
Ensure Quality & Hygiene procedures are adhered to and all work undertaken conforms with them
To complete all predictive, preventative and corrective maintenance tasks as detailed in the departmental workload plan generated by the Engineering Manager.
Recommend amendments to the installation maintenance plan in light of maintenance and inspection history
Develop and implement improvement plans for allocated equipment to increase efficiency.
Work with the Engineering Manager to develop and implement annual overhaul plans for allocated equipment
Develop an atmosphere of change that will positively contribute towards the advancement of all functions relating to the manufacturing operation.
Conduct bench overhaul activities on designated repairable components
Conduct second line fault finding on plant upsets and equipment malfunctions, implementing suitable corrective actions
Records/registers stop information into the shift log spreadsheet to assist in continuous improvement of the asset
Provide technical support to local & capital projects
Conduct project works
Conduct audits to measure and improve effectiveness of Site Maintenance and Engineering function
Experience:
Engineering / Automation
Food Safety
Health & Safety
Minimum 2 years' experience of maintenance within an automated Fast Moving Consumer Goods (FMCG) environment
Financial awareness
IT literacy
Timed served apprenticeship
Recognised electrical qualifications
17th / 18th edition regs
Root Cause Failure Analysis (RCFA)
Reliability Centred Maintenance awareness (RCM)
About Pieminister
From Pieminister's humble beginnings, selling pies at music festivals and market stalls, we have now grown to over 16 restaurants and have ambitious expansion plans to roll out more restaurants up and down the country.
Pieminister is a multi-channel business developing pies (and other products) for Pieminister's restaurants, cafes, brand licenses (which include pubs and leisure venues) and independent retailers, delis and supermarkets. Pieminister also host pie and mash weddings, cater for corporate events and feed festival goers in the summer.
Pieminister is still a family-owned business and has 150 pie experts making over 6 million pies a year and up to 95,000 pies a week in Bristol during peak times. Pieminister is the UK's only national pie company to use 100% free range British meat. And the provenance of ingredients is a key part of what Pieminister stand for.
Pieminister also has a strong commitment to animal welfare and redistributing waste through our Little Acts of Pieness initiative (where we give people frozen pies to raise money for charity). We have also been recognised as one of the 1,000 businesses to inspire Britain, won awards for most of our pies and are hailed in the press as the saviour of the British pie.
The working environment at Pieminister is fast paced, varied, high-energy and we have lots of fun along the way. We don't wear suits, but we are serious about business and our ambition to be the UK's most loved pie brand.
The Package
Salary £35,057 rising to £36,907 on completion of probation
Bonus scheme
29 days holiday
Pension options
Pie Day Friday – so lunch on us every Friday!
Staff discount on pies and meals
Chance to get involved with all of our charitable activity
Invite to the annual pie awards, parties and picnic
Continuous training and development to grow within the world of pie
And… a Pieminister tea towel, The Holy Pie-ble and free Pie Feast vouchers to try out the restaurant menu
This role is based in Brentry in North Bristol (5 min away from M5 J17) and is alternating weekly shifts 06.00-14.00 / 14.00-22.00  Monday – Friday, although with the ability to flex to business requirements (including weekend and/or evening and night shifts) if required.
To apply send your CV and Cover Letter to alba.lyons@pieminister.co.uk