Jobs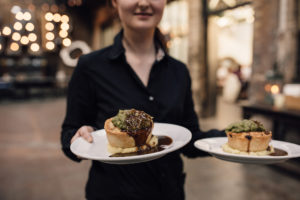 Events Coordinator
Bristol
We're looking for an Events Coordinator to join our Events team at PMHQ. Your role will be to lead the organisation, planning and execution of Pieminister's events. You will be the point of contact for booked clients, plan the events from the Head Office, manage loading days and ensure that the team have all that they need for the event to run to plan.
The ideal candidate will have a minimum of 2 years of event management experience and some experience in events planning. You'll need to be computer literate in excel and word, ambitious, passionate about events (in particular weddings) and have excellent organisational skills.
You will be mainly office based, however, this role requires you to be flexible and you must be able to work weekends as required. This role is based in Bristol city centre, but you will be working on site at events around the UK.
Key areas of responsibility
Client meetings & site visits
Create comprehensive event packs that will include: schedules, kit lists, menus etc.
Being the direct contact to booked clients & meeting their requirements
Managing loading days where you will oversee all aspects such as; ensuring all equipment that is required is loaded, H&S procedures are carried out, food preparation is carried out to specifications, all suppliers' orders have been delivered correctly.
Being the point of contact for team members at events, either on the phone or on site
Managing events and handling any issues that may arise
Overseeing loading/unloading and setting up, ensuring that manual handling practices are carried out. Heavy lifting will be required.
Ensuring that HACCP are completed on site
Ensuring that the shift runs smoothly and being in control at all times
Being 100% compliant in all things relating to food safety and health and safety
Being a support chef to your team, as required, to ensure that the event runs smoothly.
Ensuring that all HR tracking documents are kept up-to-date and monitoring the event teams training and progression
Essential Experience
2 years' Event Management experience
Some event planning experience
Experience in customer facing role
Full clean driving license
Solid computer skills – Outlook, Excel, Word, Powerpoint.
Strong all round communicator – highly organised, ambitious, enthusiastic, and driven.
A passion for the event and wedding industry
Desirable
Experienced event planner
Digital marketing experience
Some social media and marketing experience
Some PR experience
Educated to degree level – 2:2
Minimum Level 2 Food Safety Certificate
Experience in the food and beverage industry
Own a vehicle
 The Package
£12 per hour salary
Start date approx. March/April
0 hour contract – expected to work Fridays, most Saturdays and then 1-2 days of choosing in the office, based on seasonal demands. 0 hour contract due to this job being seasonal and hours may fluctuate weekly.
Milaege expenses paid
Performance based bonuses
Accrued holiday pay
Clear path for remuneration increases
Pie Day Friday – lunch on us every week
Staff discount on pies and meals
Chance to get involved with all of our charitable activity
Invite to the annual pie awards, parties and picnic
Continuous training and development to grow within the world of pie
And… a Pieminister tea towel and free Pie Feast vouchers to try out the restaurant menu
About Pieminister
From Pieminister's humble beginnings, selling pies at music festivals and market stalls, we have now grown to over 16 restaurants and have ambitious expansion plans to roll out more restaurants up and down the country.
Pieminister is a multi-channel business developing pies (and other products) for Pieminister's restaurants, cafes, brand licenses (which include pubs and leisure venues) and independent retailers, delis and supermarkets. Pieminister also host pie and mash weddings, cater for corporate events and feed festival goers in the summer.
Pieminister is still a family owned business and has 150 pie experts making over 6 million pies a year and up to 95,000 pies a week in Bristol during peak times. Pieminister is the UK's only national pie company to use 100% free range British meat. And the provenance of ingredients is a key part of what Pieminister stand for.
Pieminister also has a strong commitment to animal welfare and redistributing waste through our Little Acts of Pieness initiative (where we give people frozen pies to raise money for charity). We have also been recognised as one of the 1,000 businesses to inspire Britain, won awards for most of our pies and are hailed in the press as the saviour of the British pie.
The working environment at Pieminister is fast paced, varied, high-energy and we have lots fun along the way.  We don't wear suits, but we are serious about business and our ambition to be the UK's most loved pie brand.
To apply for the role, please send your CV, covering letter & completed Pie Application Form to katie.packham@pieminister.co.uk with the reference: Events Coordinator.
The closing date for this application is 22nd February 2020. We will contact all candidates after the cut off date.