Jobs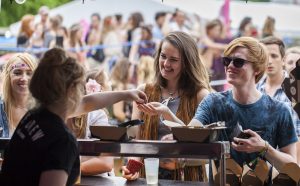 Festival Crew Members
At Festival Location
You will be responsible for serving our large, loyal fan base of pie-lovers and keeping revellers fed and refuelled, while revelling a bit yourself. Pieminister is synonymous with its motto, 'Good Times With Pies', and this will be just as an important part of the role as making sure our pies are cooked to perfection will be. You will also need oodles of energy for this role, balancing high intensity work periods with seeing great stage acts and DJs. Reporting to the festival department manager, this role will be responsible for delivering high quality food and good times with pies at festivals across the country.
Key criteria
You will need to be flexible to fill a variety of roles that may include rigger, chef & server, as you and your team take real ownership of the whole operation from start to finish. You will need to have bags of common sense, a desire to work hard, be outgoing and be able to blend well with your team. The ideal candidate would have prior event experience and relish working in a fast paced environment, but even without these, if you bring the correct attitude and can show passion for what you do, we are interested in hearing from you. A food safety qualification would also be beneficial, but training can be given.
Your main base will be at Pieminister Kitchens, Charlton Road, Bristol but you will be expected to travel the country.
The package
Salary – £8.50 per hour
0 hour flexible contract
Holiday Pay accrual system
Chance to work at a number of festivals throughout the season
The festival season runs from July– September 2020 with some on the job training days beforehand, and opportunities to pick up some shifts at other Pieminister events. Employees will ideally be able to commit to all festivals that Pieminister have signed up to
Staff discount on pies and meals
Continuous training and development to grow within the world of pie
And… a Pieminister tea towel, and free Pie Feast vouchers to try out the restaurant menu.
About Pieminister:
From Pieminister's humble beginnings, selling pies at music festivals and market stalls, we have now grown to over 16 restaurants and have ambitious expansion plans to roll out more restaurants up and down the country.
Pieminister is a multi-channel business developing pies (and other products) for Pieminister's restaurants, cafes, brand licenses (which include pubs and leisure venues) and independent retailers, delis and supermarkets. Pieminister also host pie and mash weddings, cater for corporate events and feed festival goers in the summer.
Pieminister is still a family owned business and has 150 pie experts making over 6 million pies a year and up to 95,000 pies a week in Bristol during peak times. Pieminister is the UK's only national pie company to use 100% free range British meat. And the provenance of ingredients is a key part of what Pieminister stand for.
Pieminister also has a strong commitment to animal welfare and redistributing waste through our Little Acts of Pieness initiative (where we give people frozen pies to raise money for charity). We have also been recognised as one of the 1,000 businesses to inspire Britain, won awards for all our pies and are hailed in the press as the saviour of the British pie.
The working environment at Pieminister is fast paced, varied, high-energy and we have lots fun along the way.  We don't wear suits, but we are serious about business and our ambition to be the UK's most loved pie brand.
So, if you have heaps of energy, have a high level of customer service and enjoy working in a variety of exciting environments, then we want to hear from you. Drop us an email: festivals@pieminister.co.uk with your CV and covering letter. We will be in touch from April to all candidates to let them know if they have been successful or unsuccessful for this role and arrange interviews.