Jobs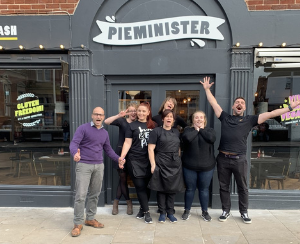 Front Of House Exeter
Key Details
Role: Front of House/Server
Salary: £8.91 / Per Hour (Plus Tips & Bonus)
Role Type: Full Time or Part Time
Experience: Minimum 1 year of experience
Location: Pieminister Exeter (4 Station Crescent, Queen Street, Exeter, EX4 3SB)
Apply here: https://harri.com/Pieminister-Exeter/job/1297336-pieminister-exeter
About Pieminister
From Pieminister's humble beginnings selling pies at music festivals and market stalls, we now have restaurants up and down the UK and ambitious plans to roll out more restaurants up and down the country. We've also been recognised as one of the 1,000 businesses to inspire Britain, won Great Taste awards for all our pies and are hailed by the press as the saviour of the British pie.
Things you will need to do:
• Take orders and serve our customers with great enthusiasm and style.
• Pour an amazing pint
• Be able to work well within a team.
• You don't mind a lot of hard work.
• Be familiar with and adhere to all things food safety and health and safety.
• Be brilliant at organising yourself to be ultra-efficient.
The person we are looking for will:
• Have previous experience in a cool, contemporary, fast casual dining establishment (not essential).
• Be outgoing and fun, who has a passion for great service.
• Up for new challenges and constantly look out for new ways to drive business and have an eye for detail.
The Package:
• Hourly pay, (plus great tips) and an actual achievable bonus (staff earned a bonus this quarter)
• Pension options.
• Bonus of up to 10% of total pay.
• Staff discount on bulk buys and meals.
• Chance to get involved with all of our charitable activity.
• Invite to the annual pie awards, parties and picnic.
• Pie Day Friday, lunch on us every week.
• Continuous training and support giving you the opportunity to grow within the world of pie.
If you think this is for you and want to join us on our incredible journey then please apply here:
https://harri.com/Pieminister-Exeter/job/1297336-pieminister-exeter