Jobs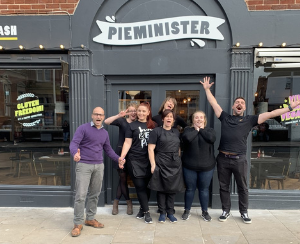 Kitchen Team Member Exeter
Key Details
Role: Kitchen Team Member
Salary: £8.91 / Per Hour (Plus Tips & Bonus)
Role Type: Full Time
Experience: Minimum 1 year of experience
Location: Pieminister Exeter (4 Station Crescent, Queen Street, Exeter, EX4 3SB)
Apply here: https://harri.com/Pieminister-Exeter/job/1310296-pieminister-exeter
About Pieminister
From Pieminister's humble beginnings selling pies at music festivals and market stalls, we now have 15 restaurants and ambitious plans to roll out more restaurants up and down the country. We've also been recognised as one of the 1,000 businesses to inspire Britain, won Great Taste awards for all our pies and are hailed by the press as the saviour of the British pie.
Things you will need to do:
• Work with the kitchen supervisors and management team to help run the kitchen shift.
• Bake, prepare cook and serve an extensive fast casual dining menu.
• Run a busy service in the absence of the kitchen supervisor.
• Liaise with the team to ensure a smooth service.
• Have good knowledge of all food safety, health and safety documentation/protocol and for you to follow this practice.
The person we are looking for will:
• Have some kitchen experience in the fast casual dining environment.
• Will be a team player.
• Have a calm and methodical approach to your work as it does get really busy at peak times.
• Be hardworking, dynamic and passionate about Pie and Mash.
The package:
• Hourly pay + tips, as well as holiday.
• Bonus of up to 10%.
• Pension options.
• Clear development and progression plan and the opportunity to gain skills to become a Pie Crew Pro member of the team ( this entails a pay increase).
• Staff discount on bulk buys and meals.
• Chance to get involved with all of our charitable activity.
• Invite to the annual pie awards, parties and picnic.
• Pie Day Friday, lunch on us every week.
• Continuous training and support giving you the opportunity to grow within the world of pie.
• And… a Pieminister tea towel, The Holy Pie-ble and free Pie Feast vouchers.
If you think this is for you and want to join us on our incredible journey then please apply here:
https://harri.com/Pieminister-Exeter/job/1310296-pieminister-exeter