Jobs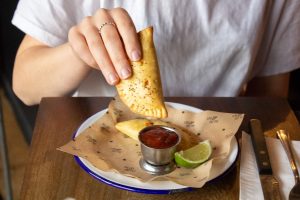 Manufacturing Manager
Bristol
We're on the hunt for a Manufacturing Manager to head-up the production team at our busy bakery in Bristol. You will report to the Operations Director and lead a team of managers, supervisors and team members totaling c.70 staff to deliver improved performance across a scorecard made-up of sustainability, customer/consumer-focused, financial, colleague-considerate and process-centric goals.
This is a challenging role where the successful candidate has the opportunity to make a genuine difference to the site and the performance of the business. You will need to be proactive with a strong bias for action, commercially astute, able to prioritise and communicate, and have oodles of energy to bring to the role. It is essential that you have experience in a high speed/volume food manufacturing environment.
Key Responsibilities:
Leadership
Lead the manufacturing function – primarily through two production Area Managers and support staff
Development of the team through regular coaching, mentoring, and training
Prioritises team workload
Working within the Company Values (Pioneering, Indulgent, Ethical)
Leading the team towards broader/deeper adoption of methodologies like root cause analysis and 5S
Managing employees effectively and addressing any issues that arise in a professional manner by ensuring legislative compliance and best practice at all times
Oversee management of the roster to ensure adequate cover in the department at all times
Reviewing the performance of all manufacturing functions – setting objectives for training and development, providing support and creating opportunities for individuals to grow and develop, providing feedback and evaluating individual and team effectiveness
Be a role model in terms of how to collaborate and influence in order to achieve improved performance
Manufacturing at the heart of the role and the business
You would have responsibility for the day-to-day running of the production facility. Through your team you should be focused on maintaining and improving standards of performance in areas including (but not limited to):
Hygiene and cleanliness
Output to Input ratios (efficiency) – includes labour, raw materials and utilities.
Customer Service Levels – to all channels including Pieminister retail, brand-using customers, major multiples, independents, and events.
Internal Service Levels – materials and information need to flow efficiently through the various parts of the factory and the wider organisation. The availability of components, consumables, and data should be monitored and managed such that bottlenecks are removed and flow maximised.
Factory Organisation (everything has a place and is in its place)
Going further than compliance
An advocate of health/wellbeing and safety, food safety, and legal compliance – to ensure these are at the heart of the site.
Ensuring all departmental staff are capable of undertaking the jobs at hand, in a safe and efficient manner and in compliance with all company rules and regulations.
Identifying training needs for new and existing employees
Maintaining and improving H&S and hygiene standards in accordance with Company rules and regulations
Familiar with HACCP
Passionate about sustainability – highlight any possible environmental issues and support the issues with solutions based on fact.
Systems, Projects, and Finance
Be entrepreneurial – actively look for opportunities to improve. Make and sell the business case where investment is required.
You will play a key role in any project relating to product or process development, human resources, H,S&E, and so on.
Budget control and management of P&L – materials, labour, expenses
Responsible for proper recording and sign-off of production team wages
Oversight of some purchasing and all stores duties
Liaising with Accounts and suppliers/contractors for invoice approval
Skills
Essential
A food industry professional with a minimum of 5-years' experience
Of graduate-calibre intellect
Strong all-round communicator
Structured and systematic
Able to plan and prioritise others' workloads
Highly organised, driven, and enthusiastic
Excel and Outlook skills
Desirable
Qualifications in a business or science-related field
Knowledge of Lean and Continuous Improvement methodologies
Project management experience
Experience within a bakery or cook-chill environment
A good understanding of basic mechanical principles
The Package
£45,000-55,000 depending on experience
Performance-based bonuses and company bonus
40-hour contract
Flexibility of working hours may be required to support critical or urgent cases
Pension
Holidays
Clear path for remuneration increases
On-site parking
Casual dress
Pie Day Friday – lunch on us every week
Staff discount on pies and meals
Chance to get involved with all of our charitable activity
Invite to the annual pie awards, parties, and events
Continuous training and development to grow within the world of pie
And… free Pie Feast vouchers to try out the restaurant menu!
Closing Date 31st January 2021
To apply for the role, please send your CV and covering letter to alba.lyons@pieminister.co.uk with the reference: Manufacturing Manager
About Pieminister
Pieminister is a multi-channel business developing pies (and other products) for Pieminister's own restaurants and cafes, leading supermarkets, our key accounts where we co-promote our brand/their business, independent retailers, delis, and so-on.
17 years from launch, Pieminister is still a family owned business making c.5 million pies a year. Pieminister is the UK's only national pie company to use 100% free range British meat. And the provenance of ingredients is a key part of what Pieminister stand for.
In 2020 we defined our 'Pies, Planet, People' agenda which lays-out how we will make positive transformational changes for the good of the planet by 2025. Anyone working at Pieminister should expect to be engaged and challenged in working towards these stretching objectives.
Like many businesses, the pandemic has presented some significant challenges for us to overcome. However, tireless efforts on COVID-security and re-shaping the business to thrive in the future means that we are financially fit and ready to leap towards significant growth once more. As one of the missing pieces in our 'talent puzzle', you should find an environment where you can both benefit from some of the decisions that have gone before and find fertile ground to have a real positive personal impact.
The working environment at Pieminister is fast-paced, varied, high-energy and we have lots of fun along the way. We don't wear suits, but we are serious about business and our ambition to be the UK's most loved pie brand.