Jobs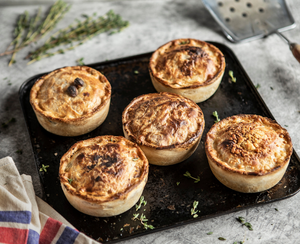 Production Operative
Bristol
Pay rates
Starting rate: £9.25
Basic rate can rise to £9.82 for skilled Area Experts (training provided)
Night shift available, rate: £11.56
Multiple shifts available to suit your needs, from mornings through to evenings
Full shifts from 6am-4pm to 12am-9pm.
Shorter shifts available, such as 2pm-6pm.
Night shifts available 7pm-4am.
About Pieminister
From a small pie kitchen, café and festival stall in 2004, Pieminister has grown into the UK's No 1 premium hot pie brand.  An independent family business with its foundations firmly rooted in sustainability, Pieminister is well on its way to becoming a B-Corp and aims to be carbon neutral by 2025: just one of the commitments laid out in the company's Pies.Planet.People goals.
With a growing number of Pie & Mash restaurants opening across the UK and 100s of retailers and pubs stocking their award winning products, Pieminister has gained a reputation as the go-to pie for those in the know.
Like many businesses, the pandemic has presented some significant challenges for Pieminister to overcome. However, tireless efforts on COVID-security and re-shaping the business to thrive in the future means that the company is financially fit and ready to leap towards significant growth once more.
The company is led by its original founders, brothers-in-law Jon and Tris. Their Pie Crew is a strong team of enthusiastic, entrepreneurial people who work hard and have fun. Everyone is included, respected and is committed to drive positive change together, one pie at a time!
About the role
A great opportunity to be part of a vibrant culture, where your contributions, big or small are truly valued, Pieminister Kitchens in Brentry are hiring.
Experience of working in a production environment is desirable but not essential as full training will be provided.
Duties
Food handling – preparation/production/packing
Maintain high standards of quality, hygiene, health and safety
Follow all training and operating procedures as instructed by the company
Take responsibility for your own health and safety and that of those around you
To be flexible within the role and within the unit departments, to take on any other duties as and when required
About you
We respect that everyone is an individual, so if you think you would be a great addition to our team, regardless of your background please apply. You will need to have lots of enthusiasm, the ability to follow instruction and the desire to learn – and of course a love of pie helps!
You will be comfortable working in a production environment where some work will be in warm kitchens, and you will also be required to handle meat and dairy products.
Skills
Excellent attitude and ability to follow instruction given in English, and communicate effectively
Unfazed by warm and cold environments
Comfortable working with foods including meat and dairy
To be able to work as part of a team and independently when required
About our pay and benefits
We offer a comprehensive package, which like our pies aims to cater to all. From free food, tea & coffee, and time off to support your passion to training, coaching and skills based progression plan. There's something for everyone here.
Starting rate of £9.25 per hour
Skills based pay progression, with Area Experts earning £9.82 per hour.
Christmas Bonus
Plan for the future with company pension contributions
29 days holiday (pro rata), plus 1 day extra per year you work with us (up to 4 years)
1 paid volunteering day a year
All the pies you could eat at cost price
One-to-one online coaching with More Happi
Up to £500 worth of pie and mash for the wedding of your dreams
Cycle to work scheme
Refer a friend bonus scheme
Staff discount meals in our restaurants and lunch on us every week (Pie day Friday!)
Continuous training and development to grow within the world of pie
And… a Pieminister tea towel, free Pie Feast vouchers to try out the restaurant menu and a box of 12 of our award-winning pies when you start!
To apply send your CV or cover letter or both to recruitment@pieminister.co.uk with the reference: Production Operative.