Festive Vegan Mothership Kit for 4
Please make your selection...
Christmas time, mistletoe & PIE; the ultimate Pieminister feast just got festive. Perfect to send as a gift to a loved one or to keep for yourself at home!
All the elements of our iconic Mothership to make yourself at home. Your favourite award-winning pie, piled high with vegan mash, minty mushy peas, lashings of plant based gravy, crispy onions and grated vegan cheese.
Choose from Good Elf, our limited edition vegan festive pie, or your favourite Plant Based Classics, to complete your Festive Vegan Mothership Kit.
This exclusive Gift Box also contains a £5 voucher to spend in any of our restaurants across the country and for every Festive Mothership box sent this season, we are donating £4 to charity FareShare South West, helping them fight hunger and food waste.
Each kit will be delivered in a chilled box, with everything you need to make Festive Motherships for four hungry people at home:
4 x Pies of your choice
4 x Portions of vegan mash
4 x Portions of minty mushy peas
Plenty of crispy onions & cheese to sprinkle on top
Lashings of our iconic vegan gravy
Cooking and assembly instructions to turn the above into a true Pieminister festive experience
Order before Sunday at midnight for Thursday delivery. Any orders made after Sunday at midnight will be delivered the following Thursday.
Get your orders in by midnight 16th December for delivery in time for Christmas.
Order by midnight 27th December for delivery in time for New Year's Eve.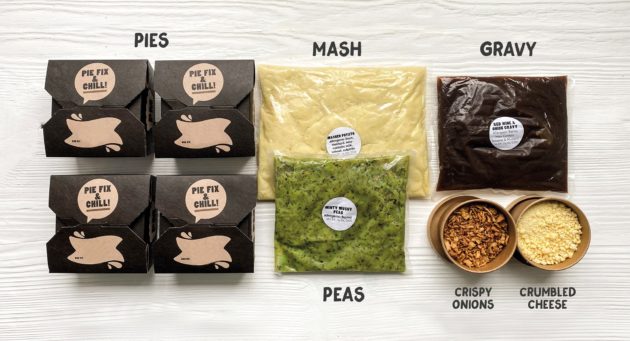 Extra information about your Festive Vegan Mothership Kit:
Your Festive Motherships will have a shelf life of up to 7 days and will need to be kept refrigerated. Delivery is nationwide (excluding the Highlands and UK Islands). Order before Sunday at midnight and your Festive Mothership Kit will arrive on Thursday (8am-5pm) in time for Pieday Friday. Our packers and drivers have the necessary measures in place to minimise contact, with stringent health and safety procedures to follow.
Unfortunately, we're currently unable to offer this as a gluten free kit due to limited resources (but we are working on it!) in the mean time, get your gluten free pie fix here.
vg – vegan v – vegetarian