FILO PIES
INTRODUCING NEW FILO PIES
Encased in crispy, light, filo pastry, these Mediterranean-inspired pies are bursting with flavour and are delicious eaten hot or cold. Sure to lighten up your lunch, and equally as perfect for a wholesome dinner, the range includes plant based, vegetarian and chicken recipes all encased in golden filo pastry. Introducing:
🌱 Light as a Feta: a vegetarian spinach, feta cheese, kale, lemon & garlic filo pie 🌱
🍗 Souk Chook: a free range British chicken, harissa, red pepper & chickpea filo pie 🍗
🥕 Maroc Star: a plant based Moroccan-spiced carrot, spinach & chickpea filo pie 🥕 (currently not available in Tesco)
You can now pick them up from select Tesco and Waitrose* stores, via Ocado & our online shop. Plus you'll see these crispy filo pies on our restaurant menus.
Please note that Filo pies will be temporarily replaced with our Christmas pies in Waitrose and Ocado from 22nd of November.
*Full list of Tesco & Waitrose branches here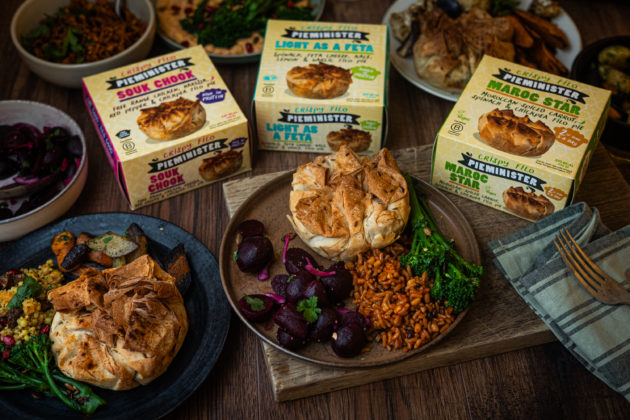 Named after the Greek word for leaf, filo is light and crispy, and these three Mediterranean-inspired pies are packed with flavour without being heavy on the pastry. With their vibrant fillings and crispy filo pastry, they are perfect for lunch, dinner or snacking. Whether you're looking for a quick and easy meal, a wholesome and delicious snack, or a lighter option for your Christmas dinner, our filo pies are the perfect choice.
The three filo pies boast a variety of positive health claims, from high in protein and two of your five-a-day, to a source of fibre and low in saturated fat. With less than 400 calories per pie, this lighter range will leave you feeling full and satisfied without feeling stuffed.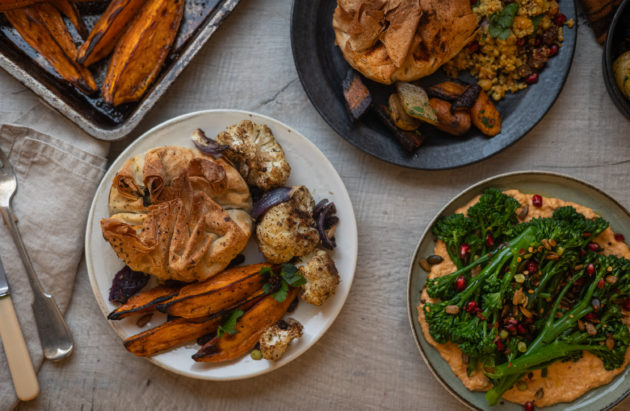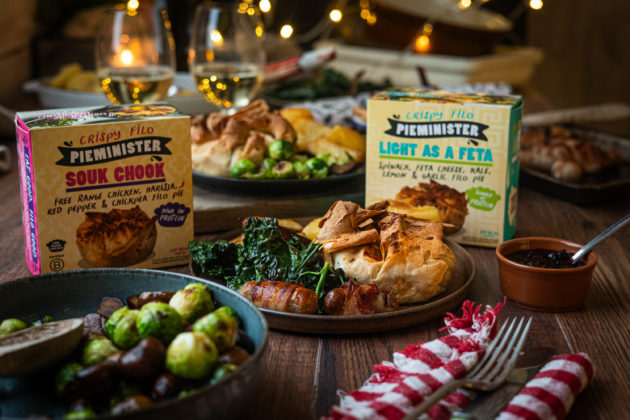 Salad Inspo…
We think these filo pies taste banging with a mixture of fresh sides and salads. Looking for ideas? Try some of our faves from the list below.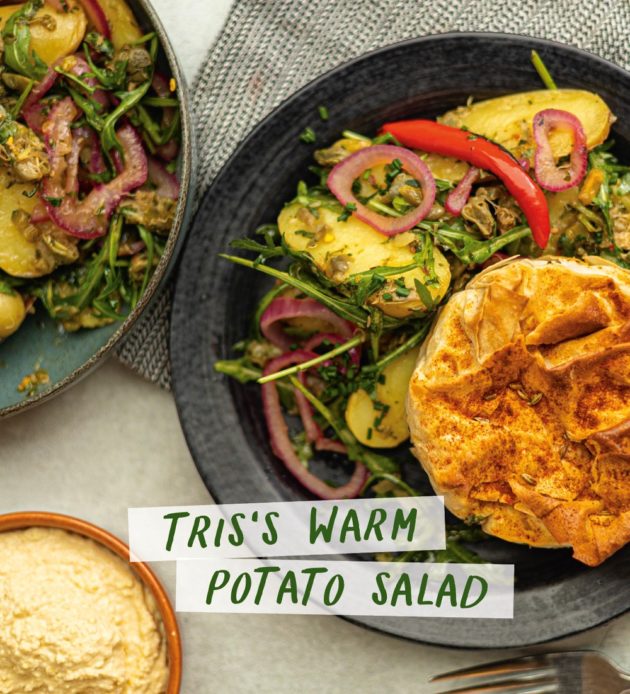 Warm Potato Salad
Serves 4 as a side. Ingredients: 500g new potatoes, 1 red onion, 3 tbsp capers, 1 small bag of rocket, 5 tbsp sherry vinegar, 2 tbsp olive oil, bunch of chives, salt, sugar, black pepper.
Boil new potatoes in salted water. Once cooked, drain and leave to dry. Whilst potatoes are boiling, peel and slice the red onion into rounds. Add a pinch of salt and sugar and leave for 5 minutes. Then add the sherry vinegar.
Once onions are pink, add the olive oil, black pepper and capers to make the dressing.
Finely chop the chives and wash your rocket. Add both to the new potatoes and pour dressing on top. Toss together and serve immediately.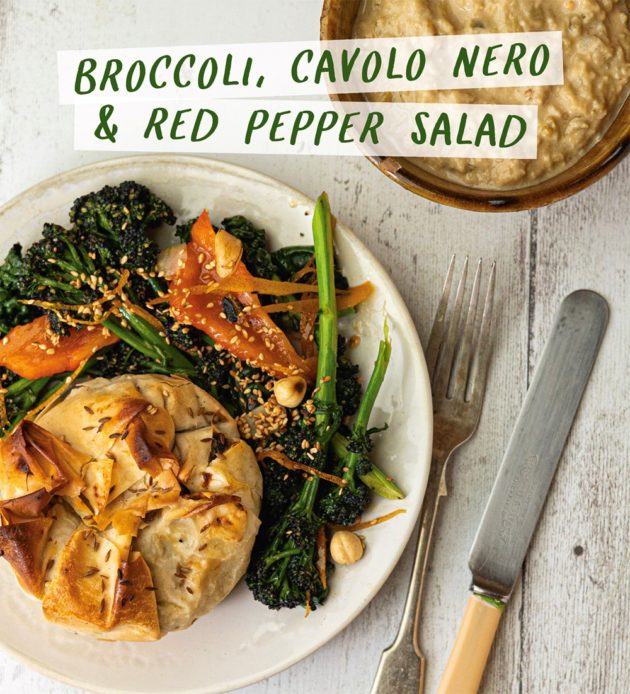 Cavolo Nero & Red Pepper Salad
Serves 4 as a side. Ingredients: 250g cavolo nero, 200g tenderstem broccoli, 1 garlic clove, 4 roasted red peppers, 3 tbsp roasted sesame seeds, 50g blanched hazelnuts, 1 tbsp olive oil, chilli flakes.
Slice the garlic, wash and trim your broccoli and cavolo nero.
Roast the hazelnuts in a frying pan on medium-high heat, constantly stirring so that they don't burn. Add in the sesame seeds for 2 minutes at the end. Put the roasted nuts into a dish.
Cook the garlic in olive oil in frying pan over medium heat, until it starts to brown.
Turn the heat up, throw your veg into the pan and toss the veg and garlic together. Stick a lid on and steam until vibrant in colour and veg is al dente. Add the roasted peppers to the pan to warm them through.
Throw the nut and sesame seed mix into the pan and give everything a good stir. Season with salt, pepper and chilli flakes (to taste) and serve immediately.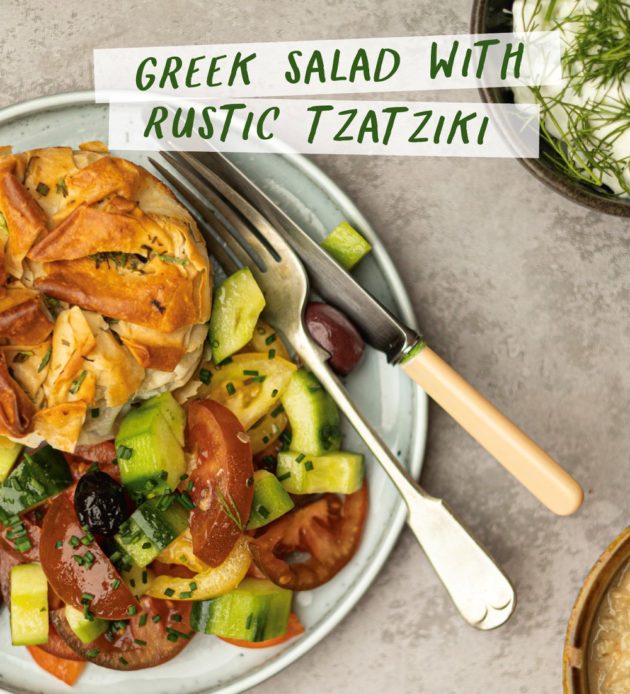 Greek Salad With Tzatziki
Ingredients: 1.5 cucumbers, 300g tomatoes, 40g olives, bunch of fresh dill, 2 tbsp olive oil, 2 tsp salt, 2 garlic cloves, 100g Greek-style yoghurt, 2tbsp lemon juice.
Roughly chop 1 cucumber, fresh dill and your tomatoes and place in a large bowl. Add your olives and olive oil.
For the Tzatziki, peel and de-seed half a cucumber. Grate the cucumber and garlic into a bowl. Add salt and let it sit for for 15 mins.
Squeeze the cucumber mixture to extract the water. Add thick Greek-style yoghurt to the mixture. Add the olive oil, lemon juice and additional seasoning to taste. Add chopped dill and stir in. Leave in fridge or serve immediately.