Sustainability
We're an independent family business and we've always challenged ourselves to do things in as sustainable a way as possible. We care about our impact on the environment around us, and we know you do too.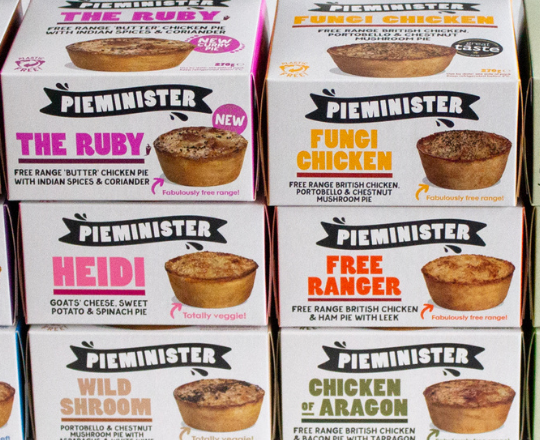 Plastic Free Pieminister
Our new windowless boxes are 100% recyclable card. Removing the window has simplified the recycling process, eliminating over 3 million pieces of film from the system.
The patties are also packaged in fully recyclable card printed using vegetable-based inks.  Plastic free, the outer patty wrapper is made from a transparent wood pulp material.

Wonky Pies
As part of our mission to keep food waste across the business to an absolute minimum, our 'wonky' pies are donated to good causes.  FareShare SouthWest collect a pallet a week from our kitchens to distribute to food banks across the region.  We've also built relationships with a number of other local charities who make good use of these wonky pies too.
And any unavoidable food waste from the pie kitchens is picked up by Bristol's Bio-Bee, to be turned into biofuel.

Free Range & British
Since we started we've carefully considered the sustainability of our ingredients. Where possible, we source from as close to our Bristol kitchens as we can and from British farmers and producers who share our high welfare and ethical standards.
The number of meat-free and plant-based products that we make grows exponentially.
And for our meat patties and pies, we continue to always use free range British chicken and pork, wild British venison and farm-assured, predominantly grass-fed, British beef.

Sustainable Palm Oil
In line with leading environmentalists including Greenpeace and WWF, we remain convinced that when sourced responsibly from a deforestation free source, palm is the most ethical and sustainable oil available.
We currently use fully sustainable RSPO-certified palm oil in our pastry, it is identity preserved, from a single source recognised as the most transparent palm oil producer in the world by the Zoological Society of London's SPOTT programme.