PIES, PLANET, PEOPLE GOALS OUR ANIMAL & ECOLOGICAL WELFARE GOALS
We will never compromise on our high animal welfare standards, raising them even higher where we can.
We have moved over entirely to Hubbard chickens; a slow-growing breed.
With the threat of lower welfare and environmental food standards looming over the British food industry, we believe that it's important that we not only maintain our long-held high standards but, in some cases, raise them higher.
Our chicken has always been free range and British, sourced from a single farm in Somerset. And as part of our continued drive to improve chicken welfare we have adopted the Better Chicken Commitment across our entire supply chain and will meet these standards by 2026 at the latest.  One major step towards this is our move in early 2022 to a slow-growing chicken breed known as Hubbard.  This means that we now meet five of the six criteria laid out in the Commitment.  Our focus now is to work closely with our chicken farmer so that together we meet the final criteria as soon as is possible and before 2026.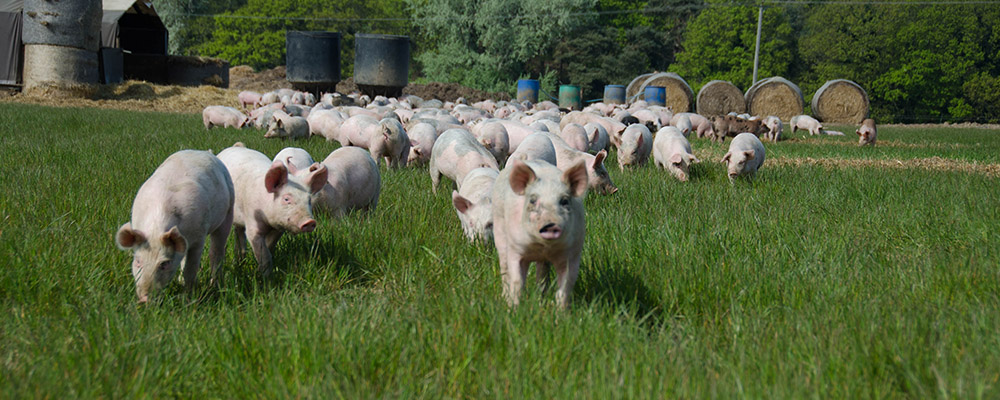 Our pork will remain free range and British; a significantly higher welfare standard than either outdoor reared or outdoor bred pork. Our beef will remain British and farm assured.
…and we will grow our plant-based product range while decreasing the range space currently given to our beef pies.
We will decrease beef's share of our total sales portfolio year on year.
We use British farm assured beef to make our small range of beef pies and have no plans to take them off the menu. But there's no denying that we need to reduce the amount that we consume globally as the demand for beef far outstrips the supply of the ideal (grass-fed beef). And overall, beef has almost 10x CO2e emissions compared to chicken or pork, and 40-60x emissions of the majority of vegetables.
These facts have led to us to focus on developing more beef-free alternatives, which we will continue to do increasingly year after year. We hope this will tempt the most committed carnivores to give beef-free and plant-based pies a try, in turn redressing our beef to beef-free pie balance.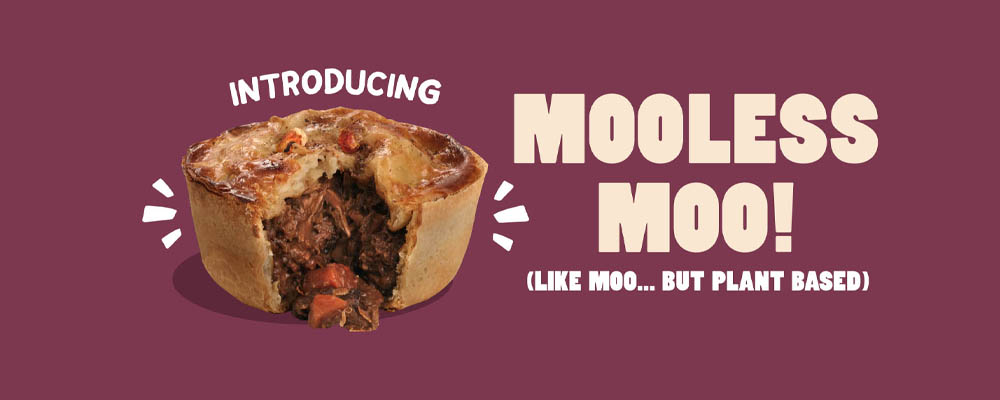 Progress so far: We currently have eight meat-free pies, five of which are plant-based, as well as two plant-based patties and a Pie Chef Kit. 
---
We will champion the use of deforestation-free ingredients, leading with 100% identity preserved palm oil and soy.
We will use our voice to highlight the importance of deforestation-free sourcing.
In line with leading environmentalists including Greenpeace and WWF, we believe that when sourced responsibly from a deforestation-free source, palm oil and soy are the most ethical and sustainable ingredients of their kind.
Many consumers have been misinformed, believing that all palm oil and soy is responsible for deforestation and should be boycotted. We want to help put the record straight, demonstrating how and why it is important to support truly sustainable deforestation-free growers of these crops.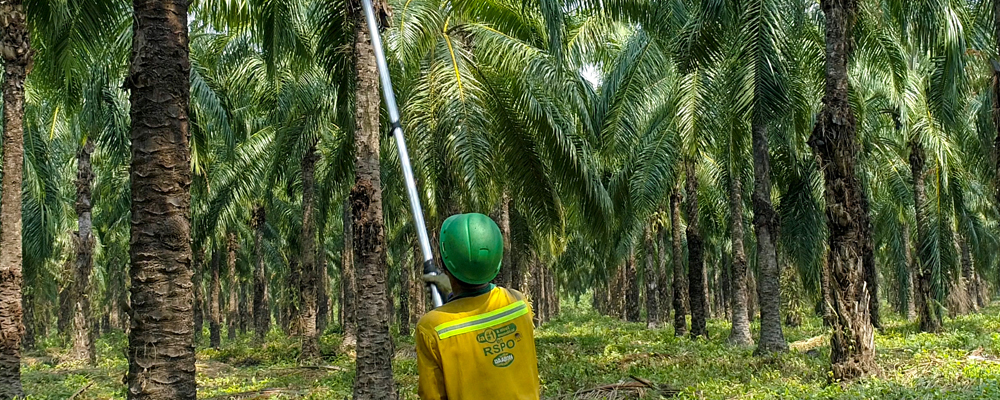 Progress so far: The palm oil we use is Identity Preserved (IP), which means that it comes from a single, identifiable certified source and is kept separate from any other palm oil throughout the supply chain. Daabon, our palm oil producer is recognised as one of the most transparent palm oil producers in the world by the Zoological Society of London's SPOTT programme. Daabon is Rainforest Alliance Certified (RAC) and is a leading member of the Palm Oil Innovation Group (POIG), which is backed by the WWF, the Orangutan Land Trust, and Greenpeace.
We use Identity Preserved palm oil in our classic pie and patty recipes. The palm oil that we use is carbon neutral whereas butter has a carbon footprint of 4.7kg of CO2 per 500g. By replacing butter with palm oil, all our pastry, with the exception of our gluten-free pastry, is 100% plant-based.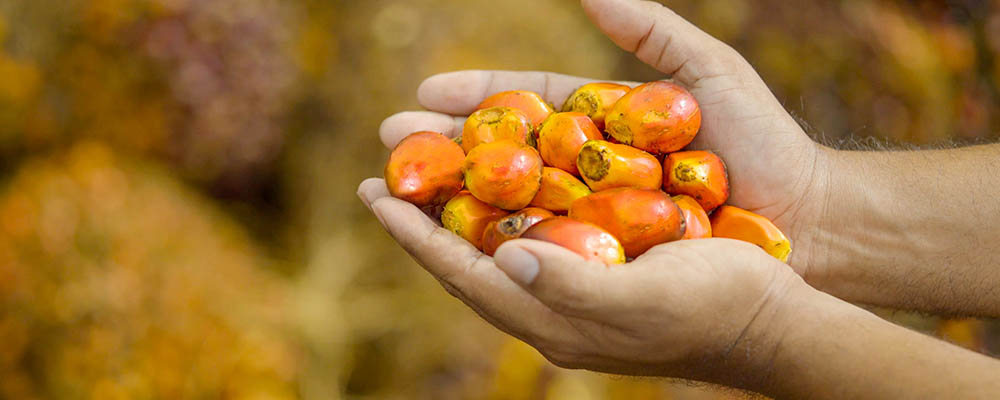 OUR CLIMATE CHANGE & WASTE GOALS
We will reduce our carbon emissions by at least 50% by 2025. And we will become carbon neutral by 2023.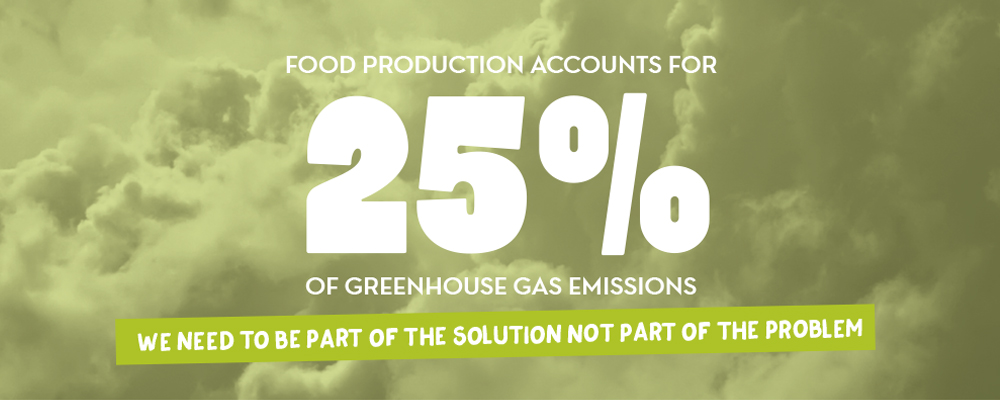 The planet is getting warmer. Without a change in trajectory, the extreme climate events we've been seeing, and their ripple effects on food security, population displacement, and modern civilisation as we know it, will only become unbearably worse and increasingly closer to home. The climate science is pretty clear that in order to limit the extent of these changes, net emissions of greenhouse gases need to fall. And quickly.
Carbon neutrality – or "net zero" – which is taking out as much carbon out from the atmosphere as we put in, is a positive action for any company or individual. But stopping there is never enough. We need to simultaneously reduce emissions occurring in the first place.
Our 50% reduction target by 2025 is in line with (and exceeds, even) the Science Based Target Initiative for businesses of our size to act in order to limit global warming to 1.5 degrees Celsius. A big target for us, but anything less isn't an option.
Progress so far: In the summer of 2020, we commissioned the Carbon Trust to measure our organisational carbon footprint – including any business travel and waste generated in our kitchens, restaurants, and offices. Following the Greenhouse Gas Protocol methodology alongside tried and tested baselining tools, the Trust calculated our footprint for the year 2019/20. We will use this calculation as our baseline as we work towards achieving our emissions reduction targets and carbon neutrality by 2023, and will share progress updates here as we go.
In Autumn 2021, following a successful trial in our Exeter restaurant we have moved our energy supply, across the whole Pieminister estate, over to a green tariff.
---
We will make 100% of our packaging reusable, widely recyclable or home compostable and continuously reduce our use of single-use plastic packaging.
We aim to reach 97% of this target by 2022, reducing plastic packaging waste to less than 5%.
Progress so far: By revisiting the design of our pie boxes in 2020 and removing the window from the front, we have eliminated over 3 million pieces of plastic from the waste stream and made our packaging as simple to recycle as possible. Prior to this, the pie windows were made of a wood pulp substrate known as Clarifoil. While this meant that our pie boxes were classed as plastic-free, it soon became apparent to us that this material caused complications within the recycling process. This led us to rethink the design again and remove the window altogether. Our pie packaging is now 100% recyclable FSC-certified card printed using vegetable-based inks and sealed using a plant-based glue.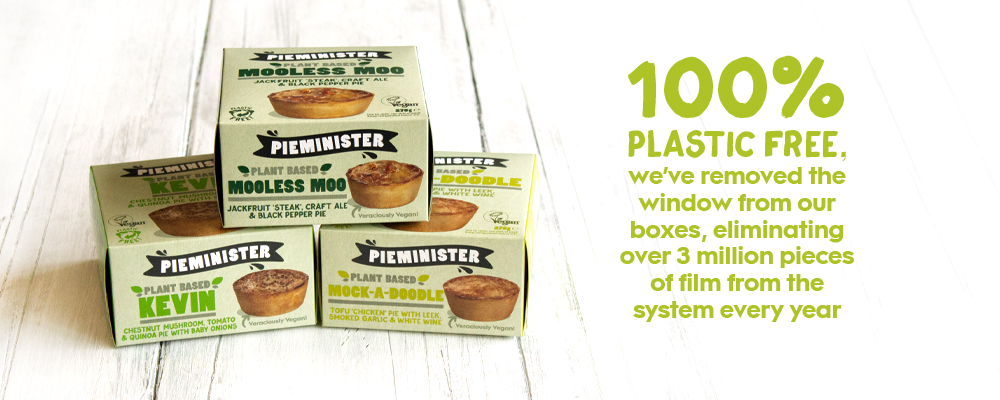 We are also reducing plastics across all other areas of our supply chain:
In our restaurants, starting with plastic straws in 2017, we have eliminated all plastic packaging for our eat-in and takeaway customers – apart from our small takeaway gravy pots which we are working on an alternative for.
For our wholesale and independent retailer customers, in 2019 we successfully swapped out our non-recyclable polystyrene delivery boxes for an insulated, fully recyclable paper and cardboard solution – removing over 17,000 polystyrene boxes per year from the waste stream. We're currently reviewing how we can make even more improvements to our delivery packaging and encourage all of our customers to reuse as much of it as possible (for the record, the ice packs make excellent cool bag chillers).
---
We will send zero waste to landfill across all PM restaurants, offices & our pie kitchens.
By 2022 we want 100% of our waste to be recycled or recovered.
Waste sent to landfill causes many environmental and social issues. When general waste biodegrades in landfill conditions it releases methane gas into the atmosphere (which is 30x worse than CO2 in terms of global warming) and leaches toxins into the groundwater.
We simply cannot let any of our internal waste contribute to this problem. Instead we want to only work with partners who ensure it gets recycled or recovered for energy.
Progress so far: As of 2019, we're proud to say that our pie production facility in Bristol (which represents a big proportion of our total waste as a company) sends zero waste to landfill! So our focus now is to ensure that all Pieminister restaurants and cafes can say the same, through working with our local waste management providers across the country.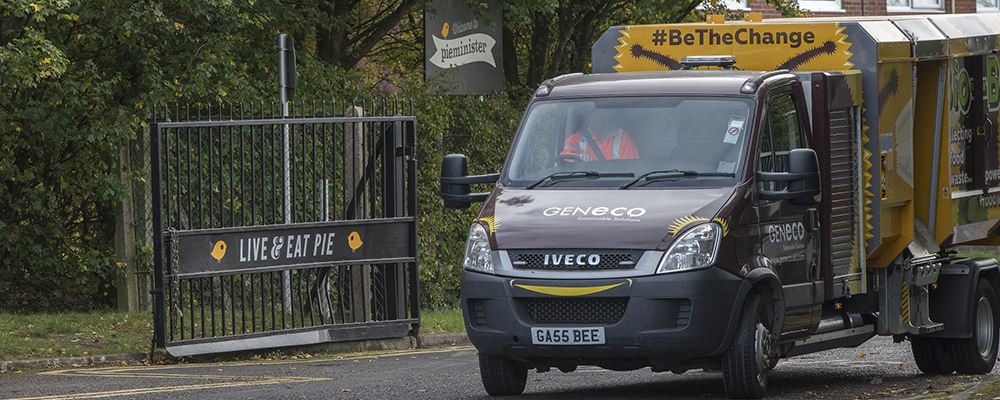 ---
We will reduce our total waste (including packaging) by 30% and increase the amount that is recycled or composted.
By 2022 we want to have reduced our total waste by 10% while increasing the percentage of waste recycled.
Producing less waste just makes sense, from every angle, so we have set ourselves a challenge to cut ours by almost a third in five years. And not just what goes into a Pieminster bin, either. We want to include everything we send out that ends up in anyone else's bin too.
For the waste that does occur, we want to maximise the amount of it that gets reused or recycled, rather than recovered for energy via incineration, where possible.
Progress so far: The first step is understanding what our waste is made up of, so we are taking a look at exactly what goes into our bins and what process is driving it in there. We've set ourselves a big target to hit, but our fantastic pie crew are already taking big steps in the right direction.
This includes adapting to unexpected changes too. One of the many challenges that this global pandemic has brought is the rapid rise in single-use disposable PPE, which unfortunately mostly goes for incineration and energy recovery right now. The safety of our staff (and of our pies) will always be our top priority, so we are exploring ways in which we can minimise this waste impact while not compromising on our pie crew safety.
…and we will reduce food waste across the business by 50%.
Any truly unavoidable food waste from our Bristol kitchens is collected by GENeco's Bio-Bee and taken to their anaerobic digestion plant nearby. The waste is used to produce sustainable electricity for homes and communities. And the solid by-product of the process is used as a nutrient-rich and sustainable biofertiliser for farms. The plant also produces biomethane which in turn fuels the Bio-Bee on its waste-collecting journeys. OUR HUMAN WELFARE & WELLBEING GOALS
We will expand our support of UK and global charities, through more Pie 'n' Cash donations (AKA: Little Acts of Pieness).
We plan to increase our pie 'n' cash donations by 10% every year.
Progress so far: In the past year (19/20) we donated 90,205 pies to good causes. This is through our ongoing Little Acts of Pieness scheme, where any surplus pies are donated to those that need them the most. Most are donated weekly to FareShare South West, who distribute them to foodbanks and frontline charities across the region.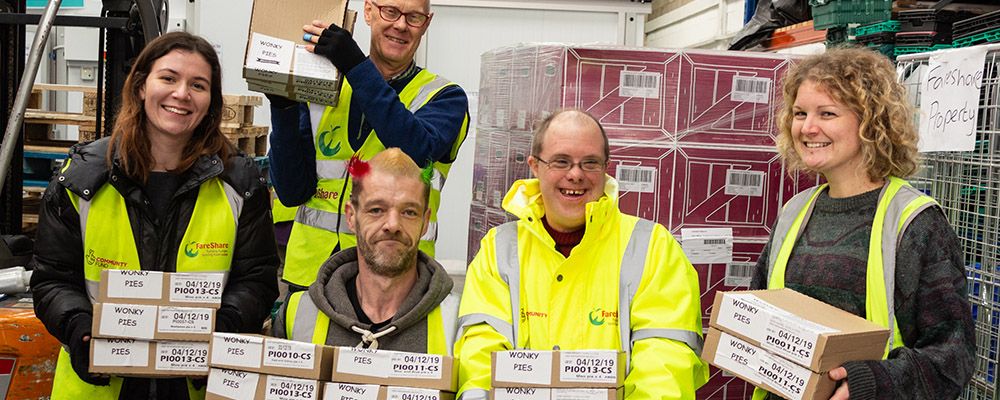 Other Little Acts of Pieness recipients include non-profit organisations of all sizes across the South West and sometimes further afield. We also have a long-standing arrangement with St Peter's Hospice, providing pies every week for both patients and visitors.
In the past year (19/20) we donated £10,218 to charity. The main recipient was our charity partner FRANK Water who provide safe drinking water and sanitation to communities across Northern India and Nepal. The funds raised were thanks to the generosity of our restaurant customers, who donated 75p per table in return for tap water; a way to use the clean water we're fortunate to have on tap to help those that don't have this privilege.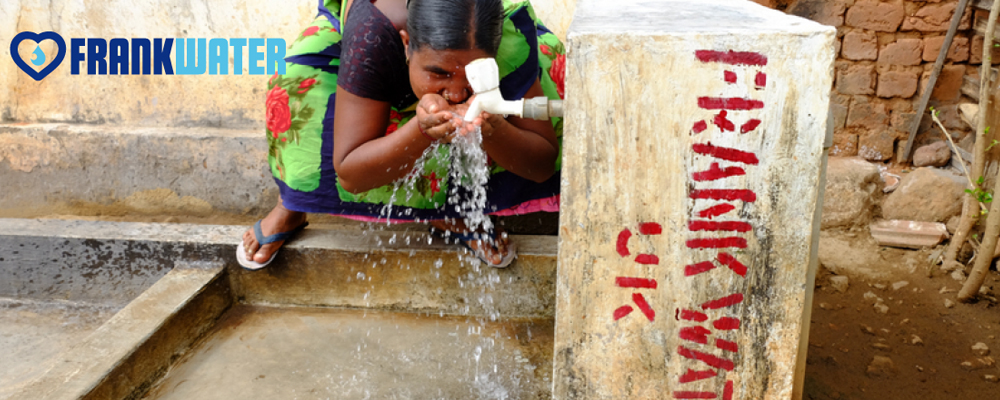 The donations to FRANK were also boosted by sales of Pieminister 5%, a vegan lager created for us by Freedom Brewery. Not only 5% vol., but 5% from every sale is also donated to a good cause.
We will continue to cultivate a happy, healthy, inclusive and diverse internal pie team.
---
By April 2022 all of our managers & supervisors will have completed Diversity & Inclusion training.
And by April 2021 we will have implemented a Voluntary Identification Scheme, meaning that all staff members can choose whether or not they want to share information with Pieminister on their race and gender.
In 2018 we formed a staff-led Inside Out Council to inform 'from the inside out' how Pieminister could become a better business for all.  The Council meets on a monthly basis to debate and agree actions that address whatever challenges they consider to be a priority, based on on-going dialogue with colleagues.  
Progress so far: During Summer 2020, Pieminister's first Head of People was appointed, to introduce stronger support and development systems for staff, starting by building a more diverse workforce. At the same time it was agreed that the Council would focus specifically on three key areas going forward: Welfare, Diversity and Sustainability. 
Annually, staff are invited to complete our 'Good Times with Pies' survey exploring their experience working for Pieminister. This is confidential, giving everyone within the business the opportunity to give their views of the business from the inside, to help drive improvements. We aim to maintain or beat our 'Good times with pies' satisfaction score of 82% each year.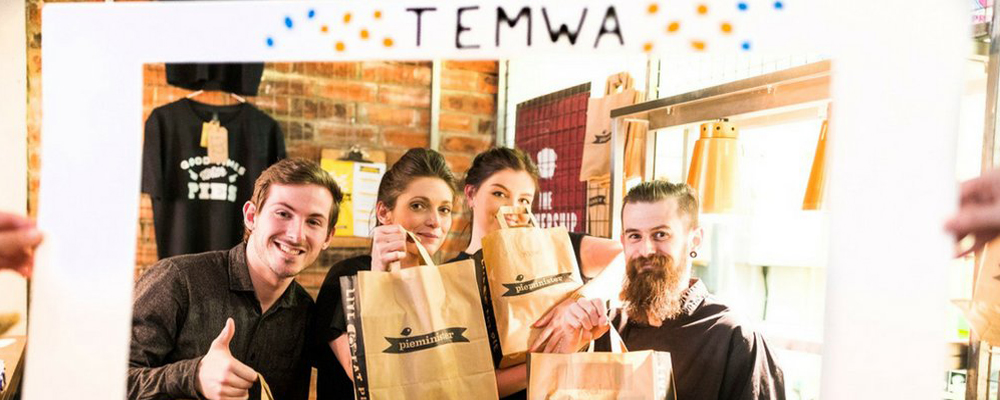 Our first Gender Pay Gap report was published in 2018. Our aspiration is to continue to maintain or improve our lead versus the UK manufacturing and Restaurant sector.
We will commit to giving a proportion of our time in work to external volunteering & social action.
---
From April 2021, eight hours (one day) per every permanent member of staff will be available to be taken as paid leave to volunteer for a charitable cause.  
This might be in support of one of Pieminister's charity partners, or a charity or initiative chosen by an individual member of staff.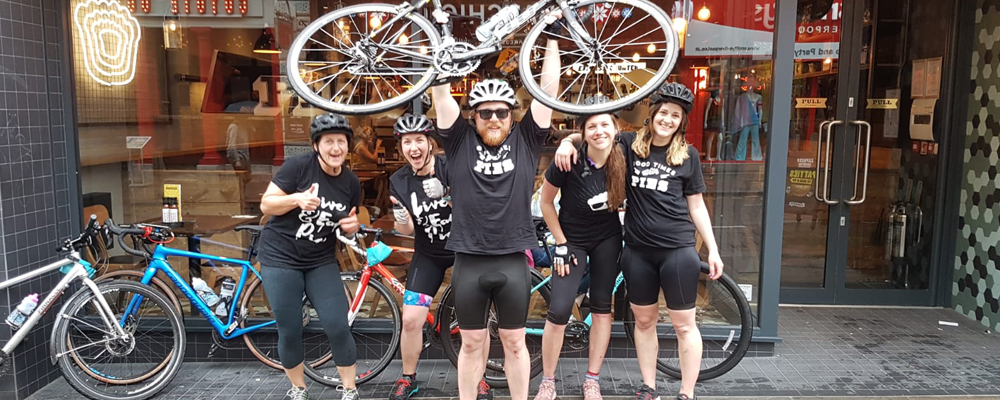 We have aligned our own goals with the Sustainable Development Goals – the UN's blueprint to achieve a better and more sustainable future for all.