view all blog posts
Gravy fondue launches in our restaurants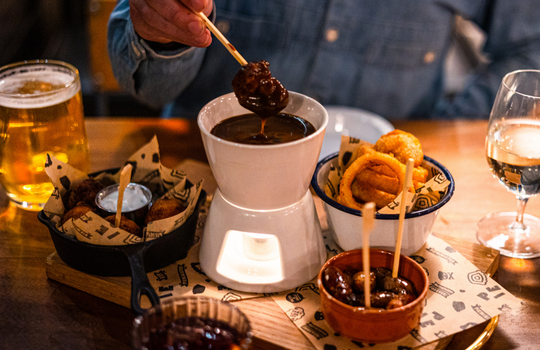 Take the plunge this January with our hot new gravy fondue.
Gravy is becoming the main event in our restaurants from Thursday 5 January with the launch of our fondue feast. Designed for sharing, come get your dunk on with a hot, steamy pot of rich, flavoursome gravy surrounded by a choice of delicious dippers. From free range British honey and mustard pigs, parsnip and kale fritters and onions rings to potato fries, Tenderstem broccoli spears and more, you've got plenty of choice.
We experimented with all sorts of potentially dippable delicacies and found that some things that seem so wrong, turn out to be so right – take the halloumi chips for example. Or our free-range British pork scratchings!  One of the qualities of our gravy is its velvety consistency, so you get a really decent coating on whatever you plunge into the pot!
With plenty of vegetarian and vegan dippers too, it can be enjoyed by everyone.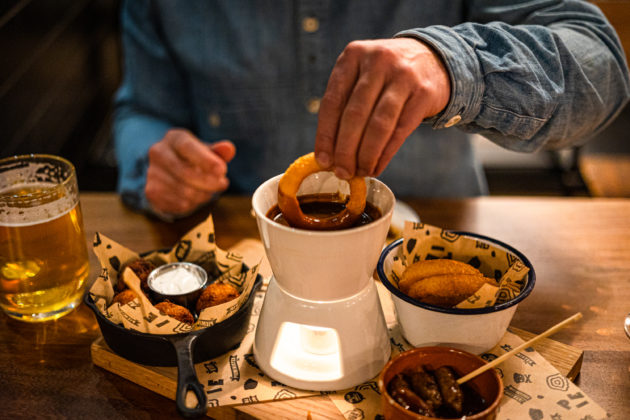 It's all gravy!
Our pie lovers' passion for gravy flourished this summer when we launched our 'It's All Gravy' pie feast with bottomless gravy, to raise funds for the Campaign Against Living Miserably. Thanks to the endless jugs we poured, the feast soon became a best seller, raising over £10,000 for the charity in just a few months. So we knew another gravy-based feast was worth exploring, but the reaction to our fondue videos on TikTok has blown our minds!
Who knew gravy could stir up so much emotion!
This gravy fondue feast is great on its own, as a starter or to accompany any of Pieminister's award winning pies.
You can find our gravy fondue at Bristol Stokes Croft, Bristol Broad Quay, Cardiff, Exeter (TBC), Birmingham, Leeds, Liverpool, Nottingham, and Sheffield.
For those not near a Pieminister restaurant, why not dust off the fondue set lurking at the back of a kitchen cupboard and create your own gravy fondue at home. For the authentic Pieminister restaurant experience, you can buy our Classic Gravy through Waitrose, Ocado and our online shop along with your favourite Pieminister pies.