view all blog posts
Say 'pie do' to a sustainable wedding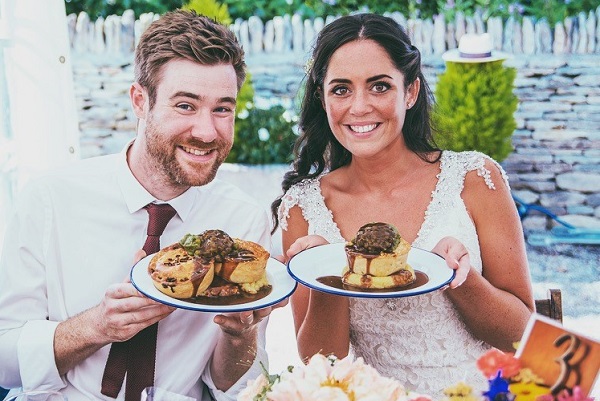 Sustainability is the word on everyone's lips at the moment. Everyone knows we need to make moves to become more sustainable as a nation in order to help the environment, but when planning a big event like a wedding, it can become really difficult to keep track of. Weddings are not typically known for being eco-friendly, from food waste to throw-away decorations. Yet, there are lots of small changes you can do to make your special day a little more environmentally friendly.
After organising hundreds of weddings herself, and following the launch of our brand new plant-based events menu, our Head of Events, Katie, gives her thoughts.
"There's one important thing to bear in mind while reading my tips. Sustainability is never about shame. No one is perfect, but we can all make little changes to help the cause, so if you're inspired by just one thing that could make a difference – do it!"
1. SHOP LOCAL
At the top of the list is going local where possible. The biggest carbon impact of your big day is bound to be travel and logistics, so finding a venue as central to you and your guests as possible is an easy way to make a huge difference.
Using tools such as Hitched's Local Wedding Suppliers Directory can help you find everything from venues, entertainment, and florists which will make your wedding spectacular without costing the Earth.
Not only this, when you're choosing local suppliers, ensuring they themselves are sourcing locally is another easy step towards a more ethical wedding day.
2. CHOOSE A PLANT BASED MENU
More people than ever are embracing a plant-based diet in a bid to help the environment. More than 350,000 are taking part in Veganuary, this January, adding to the estimated 600,000 vegans living in the UK, according to The Vegan Society.
With so many people living plant-based, we have seen a huge increase in couples wanting to celebrate their marriage with a vegan wedding. This is why we decided to create a vegan wedding menu, taking our favourite plant-based options from local suppliers to create a delicious, beautiful wedding meal to give everyone a sustainable feast to remember.
3. WHITE WEDDING, GREEN DECORATIONS
Confetti, balloons, candles and lights. They look beautiful, but there's lots of plastic hiding behind the scenes. It doesn't take much to opt for eco-friendly versions.
Hiring your decorations is one option, but if you have your heart set on one idea, be sure to seek out a biodegradable supplier.
Balloon arches are all the rage, and The Balloon Showroom specialises in show-stopping displays made from completely biodegradable balloons!
4. CHOOSE A BEAUTIFUL DAIRY FREE CAKE
So a vegan menu is one thing, but a vegan cake? A simple look at #veganweddingcake is all you need to see that plant-based cakes are beautiful.
Ruby's of London is a purely plant-based bakery, specialising in spectacular cakes that are stripped of dairy but don't scrimp on style. They create showstoppers that taste amazing, look beautiful in pictures but also, keep your carbon footprint nice and low.
5. STICK TO ONE KNOCKOUT INVITE
Save the dates, invites, RSVPs, registers, place cards. Weddings have lots of paper aspects to them, which is a really easy place to make some sustainable steps.
Why not use a paperless save the date? Many couples are opting for digital invites and companies like Paperless Post are proving that digital doesn't mean dull.
Find out more about the Pieminister Plant Based Events menu here.