view all blog posts
Parys Gardener X Pieminister
We teamed up with local Bristol artist, Parys Gardener, to create a BEAUT tea towel in celebration of our Eat Pies: Plant Trees project.
With 5000 trees pledged already through our Eat Pies Plant Trees campaign, we think our new TREE towel (see what we did there) from Parys will help our forest grow even bigger.
Inspired by summers spent relaxing in Bristol's parks, the limited edition tea towels generate a £1.50 donation from us towards our forest fund. We've only got a limited number of tea towels, so grab one while you can!
Our aim for Eat Pies: Plant Trees is to encourage more plant-based eating and plant a forest with Forestry England. And so, every plant-based pie or patty bought this summer, will also generate a donation towards buying, planting, and caring for thousands of new trees this Autumn.
We're big fans of Parys' work at Pieminister and so we wanted to find out more about her and what inspires her work…
A Q&A with Parys Gardener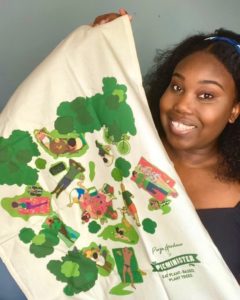 What fired your love of illustration, and have you always preferred to work digitally?
I've always enjoyed art and storytelling, as a dyslexic kid, I found that I really engaged with beautiful storybooks that I could relate to, books like Amazing Grace by Mary Hoffman. As I grew older, I learned to understand the importance of representation even more which led me to explore loads of different creative practices before I took up illustration. Working digitally allows me to be experimental and learn new techniques which is something I enjoy.
Who are your favourite local artists?
Jasmine Thomson – https://rising.org.uk/artists/jasmine-thompson/
Courtenay Welcome – https://courtenaywelcome.com
Cai Burton – https://www.joyful-design.co.uk
Do you have a favourite view in Bristol?
I wish I could say something more perfect postcard picture but I love to look over the edge of the motorway, by the M32, and see all the areas I grew up in from above. To me, that's really sentimental, especially if it means I'm coming home from a long journey.
Which other brands have you enjoyed collaborating with?
Some of my favourite brand collaborations have been with sportswear brands like Nike and footlocker. But during the pandemic, I have been fortunate enough to work with some fun and meaningful projects with all values that align with my own. It's nice to work with brands that have a set way of doing things but I love to work with brands to bring new ideas to life.
What would you like to work on next?
I'm working on some very exciting and top-secret projects over the summer, one of which is going to have my work popping up across the city. I can't wait to be able to share with everyone but for now, watch this space!

And a question we have to ask, what's your favourite pie?
The Moo with crispy onions and extra gravy!
---
If you'd like to buy one of the limited edition tea towels, head to our online shop.
And if you'd like to find out more about Parys' work or buy some for yourself, visit parysgardener.com. And you can follow her on socials: @parysgardenerart